***PATENT PENDING***
*SUPERLITE DESIGN*
*ENGINEERED WITH LESS ROTATING MASS*
MACHINING LOCKOUTS SINCE 1999

OUR QUICK CHANGE CLUTCH COVER MOD IS REQUIRED WITH THE USE OF A LOCKOUT
YOUR CLUTCH LOCKOUT IS THE BEST BOLT ON PERFORMANCE MODIFICATION THAT I HAVE MADE.YOUR LATEST INOVATION HAS HELPED ME STAY AHEAD OF THE COMPETION.THANKS FOR ALL GREAT WORK AND FRIENDLY SUPPORT.
KEEP UP THE GOOD WORK, RICK MAGNETT JR.
portland,or
I HAVE SEEN YOUR LOCKOUT IN ACTION,
AND IT IS AWESOME
THANK YOU
Tony Owens
Phoenix,Az

I HAVE A BANSHEE THAT PRODUCES 91hp ON A DYNO ,THAT I RACE UP OLDSMOBILE HILL AT GLAMIS,THE BIKE WOULD NEVER PULL THE HILL IN 5TH GEAR,IT ALWAYS RAN THE BEST IN 4TH.WE INSTALLED YOUR QUICK CHANGE COVER AND LOCKOUT ON THE BIKE AND TOOK IT TO GLAMIS AND RAN IT UP OLDSMOBILE,WHAT A DIFFERENCE ,THE BIKE WILL SCREAM THROUGH 5th GEAR NOW.THE CLUTCH LOCKOUT WORKS JUST LIKE YOU SAID IT WOULD.
THANKS, Greg Garabedian
Bell Gardens,Ca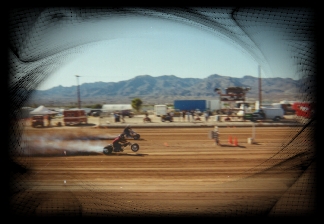 Banshee Lockout Install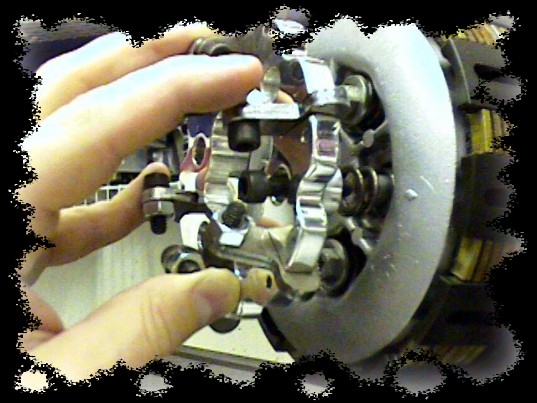 *INCREASE THE QUICKNESS OF YOUR BIKE*
when you give your bike the gas your clutch is going to slip excessivly, new or used, the lockout will eliminate this slipping and in the process transfer more of the engines horsepower to the rear wheels instead of it being lost through a slipping clutch. The lockout can also extend the life of your clutch 2 to 3 times and remove the need to use stiff springs.The lockout has six weighted fingers surrounding its perimiter that apply progressivly more force to the pressure plate as the RPM's of the engine increase,it is this force on the pressure plate that will eliminate your clutch from slipping.
You will not experience any adverse side effects from useing a lockout.
Your transmission shifting will operate just like stock.
You can use an override transmission or stock transmission.
Your clutch pull will not get any stiffer than stock.
You won't hear any rattles,knocks,or unusual noises.
You can use stock clutch springs instead of stiff clutch springs.
Your clutch can last up to 3 times longer.